Alberto Puliafito
Professore/Professoressa associato/a
Professore/Professoressa a contratto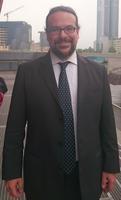 Contatti
0119933505
n/d
c/o Candiolo Cancer Institute FPO - I.R.C.C.S.
Strada Provinciale 142, km 3,95 - 10060 Candiolo (TO)

https://sites.google.com/site/apuliafito/
Presso
Department of Oncology
Dipartimento di Oncologia
Artificial Intelligence for Biomedicine and Healthcare
Corso di Laurea in Infermieristica - Asti
Corso di laurea in Infermieristica - Cuneo
MedInTO Medicine and Surgery
Dottorato in Sistemi Complessi per le Scienze della Vita (fino al ciclo 35) - PhD Programme in Complex Systems for Life Sciences (until 35th cycle)
PhD in Complex Systems for Quantitative Biomedicine
PhD Programme in Complex Systems for Life Sciences (until 35th cycle)
Curriculum vitae
Curriculum Vitae (72.6 KB)
Prodotti della ricerca
Tutti i miei prodotti della ricerca
Prodotti della ricerca selezionati
Iaia I, Gammaitoni L, Cattaneo G, Giraudo L, Donini C, Fiorino E, Primo L, Carnevale-Schianca F, Aglietta M, Puliafito A, Sangiolo D. (2021) Recruitment, Infiltration, and Cytotoxicity of HLA-Independent Killer Lymphocytes in Three-Dimensional Melanoma Models. Cancers 13(10) [DOI PMID]
Lupo B, Sassi F, Pinnelli M, Galimi F, Zanella ER, Vurchio V, Migliardi G, Gagliardi PA, Puliafito A, Manganaro D, Luraghi P, Kragh M, Pedersen MW, Horak ID, Boccaccio C, Medico E, Primo L, Nichol D, Spiteri I, Heide T, Vatsiou A, Graham TA, Elez E, Argiles G, Nuciforo P, Sottoriva A, Dienstmann R, Pasini D, Grassi E, Isella C, Bertotti A, Trusolino L. (2020) Colorectal cancer residual disease at maximal response to EGFR blockade displays a druggable Paneth cell-like phenotype. Science translational medicine 12(555) [DOI PMID]
Somale D, Di Nardo G, di Blasio L, Puliafito A, Vara-Messler M, Chiaverina G, Palmiero M, Monica V, Gilardi G, Primo L, Gagliardi PA. (2020) Activation of RSK by phosphomimetic substitution in the activation loop is prevented by structural constraints. Scientific reports 10(1) 591 [DOI PMID]
Chiaverina G, di Blasio L, Monica V, Accardo M, Palmiero M, Peracino B, Vara-Messler M, Puliafito A, Primo L. (2019) Dynamic Interplay between Pericytes and Endothelial Cells during Sprouting Angiogenesis. Cells 8(9) [DOI PMID]
Puliafito A, Ricciardi S, Pirani F, Cermochova V, Boarino L, De Leo N, Primo L, Descrovi E. (2019) Driving Cells with Light-Controlled Topographies. Advanced science (Weinheim, Baden-Wurttemberg, Germany) 6(14) 1801826 [DOI PMID]
Deneke VE, Puliafito A, Krueger D, Narla AV, De Simone A, Primo L, Vergassola M, De Renzis S, Di Talia S. (2019) Self-Organized Nuclear Positioning Synchronizes the Cell Cycle in Drosophila Embryos. Cell 177(4) 925-941.e17 [DOI PMID]
Doronzo G, Astanina E, Cora D, Chiabotto G, Comunanza V, Noghero A, Neri F, Puliafito A, Primo L, Spampanato C, Settembre C, Ballabio A, Camussi G, Oliviero S, Bussolino F. (2019) TFEB controls vascular development by regulating the proliferation of endothelial cells. The EMBO journal 38(3) [DOI PMID]
di Blasio L, Puliafito A, Gagliardi PA, Comunanza V, Somale D, Chiaverina G, Bussolino F, Primo L. (2018) PI3K/mTOR inhibition promotes the regression of experimental vascular malformations driven by PIK3CA-activating mutations. Cell death & disease 9(2) 45 [DOI PMID]
Gagliardi PA, Somale D, Puliafito A, Chiaverina G, di Blasio L, Oneto M, Bianchini P, Bussolino F, Primo L. (2018) MRCKalpha is activated by caspase cleavage to assemble an apical actin ring for epithelial cell extrusion. The Journal of cell biology 217(1) 231-249 [DOI PMID]
Gagliardi PA, Puliafito A, Primo L. (2018) PDK1: At the crossroad of cancer signaling pathways. Seminars in cancer biology 48 27-35 [DOI PMID]
Puliafito A, Primo L, Celani A. (2017) Cell-size distribution in epithelial tissue formation and homeostasis. Journal of the Royal Society, Interface 14(128) [DOI PMID]
Di Blasio L, Gagliardi PA, Puliafito A, Primo L. (2017) Serine/Threonine Kinase 3-Phosphoinositide-Dependent Protein Kinase-1 (PDK1) as a Key Regulator of Cell Migration and Cancer Dissemination. Cancers 9(3) [DOI PMID]
Tornini VA, Puliafito A, Slota LA, Thompson JD, Nachtrab G, Kaushik AL, Kapsimali M, Primo L, Di Talia S, Poss KD. (2016) Live Monitoring of Blastemal Cell Contributions during Appendage Regeneration. Current biology : CB 26(22) 2981-2991 [DOI PMID]
Chen CH, Puliafito A, Cox BD, Primo L, Fang Y, Di Talia S, Poss KD. (2016) Multicolor Cell Barcoding Technology for Long-Term Surveillance of Epithelial Regeneration in Zebrafish. Developmental cell 36(6) 668-80 [DOI PMID]
Lupo B, Vialard J, Sassi F, Angibaud P, Puliafito A, Pupo E, Lanzetti L, Comoglio PM, Bertotti A, Trusolino L. (2016) Tankyrase inhibition impairs directional migration and invasion of lung cancer cells by affecting microtubule dynamics and polarity signals. BMC biology 14 5 [DOI PMID]
Puliafito A, De Simone A, Seano G, Gagliardi PA, Di Blasio L, Chianale F, Gamba A, Primo L, Celani A. (2015) Three-dimensional chemotaxis-driven aggregation of tumor cells. Scientific reports 5 15205 [DOI PMID]
Gagliardi PA, Puliafito A, di Blasio L, Chianale F, Somale D, Seano G, Bussolino F, Primo L. (2015) Real-time monitoring of cell protrusion dynamics by impedance responses. Scientific reports 5 10206 [DOI PMID]
Xenopoulos P, Kang M, Puliafito A, Di Talia S, Hadjantonakis AK. (2015) Heterogeneities in Nanog Expression Drive Stable Commitment to Pluripotency in the Mouse Blastocyst. Cell reports 10(9) 1508-1520 [DOI PMID]
di Blasio L, Gagliardi PA, Puliafito A, Sessa R, Seano G, Bussolino F, Primo L. (2015) PDK1 regulates focal adhesion disassembly by modulating endocytosis of alphavbeta3 integrin. Journal of cell science 128(5) 863-77 [DOI PMID]
Seano G, Chiaverina G, Gagliardi PA, di Blasio L, Puliafito A, Bouvard C, Sessa R, Tarone G, Sorokin L, Helley D, Jain RK, Serini G, Bussolino F, Primo L. (2014) Endothelial podosome rosettes regulate vascular branching in tumour angiogenesis. Nature cell biology 16(10) 931-41, 1-8 [DOI PMID]
Gagliardi PA, di Blasio L, Puliafito A, Seano G, Sessa R, Chianale F, Leung T, Bussolino F, Primo L. (2014) PDK1-mediated activation of MRCKalpha regulates directional cell migration and lamellipodia retraction. The Journal of cell biology 206(3) 415-34 [DOI PMID]
Cerruti B, Puliafito A, Shewan AM, Yu W, Combes AN, Little MH, Chianale F, Primo L, Serini G, Mostov KE, Celani A, Gamba A. (2013) Polarity, cell division, and out-of-equilibrium dynamics control the growth of epithelial structures. The Journal of cell biology 203(2) 359-72 [DOI PMID]
Puliafito A, Hufnagel L, Neveu P, Streichan S, Sigal A, Fygenson DK, Shraiman BI. (2012) Collective and single cell behavior in epithelial contact inhibition. Proceedings of the National Academy of Sciences of the United States of America 109(3) 739-44 [DOI PMID]
Temi di ricerca
My research interests: I am particularly interested in the quantitative characterization and understanding of multicellular growth regulation in development, homeostasis and in cancer. My research focus primarily on epithelial growth regulation in a number of different models: in vitro cell layers, cysts, cancer spheroids, xenopatient derived organoids, endothelial tissues, zebrafish epidermis and mouse embryo. I trained as a theoretical physicist but during my postdocs I've also learned basic wet biology techniques, live microscopy and quantitative image analysis


Current projects:
1. Population dynamics in colorectal cancer patient derived organoids
Phenotypic heterogeneities in tumor cell populations that result from both genetic and non-genetic determinants constitute one of the sources of therapeutic resistance. Understanding intra-tumor non-genetic heterogeneity is challenging, mostly due to the lack of suitable experimental models. The recent development of tumor organoids gives the unique opportunity to exploit the advantages of traditional culture models, while still being as close as possible to original patient tumors. By means of lineage tracing and live-microscopy assays, we are exploring the existence of differentiation hierarchies within organoids and their relation to differential drug responses.
2. Collective directional migration in cancer cells
Collective migration is now recognized as a fundamental aspect of cancer dissemination. Moving in concert represents a powerful strategy for cells to evade certain facets of the immune system, effectively degrade the extracellular matrix and preserve genetic heterogeneity. We are studying the abilty of cells/spheroids to spontaneously perform directional migration in 3d, due to the secretion of autocrine growth factors that create spatially varying concentration profiles that bias the movement of whole aggregates of cells.
3. Recruitment and active vs passive movement of immune effectors in adoptive cell therapy
We are interested in studying the homing of lymphocites to tumors in 3D environments by means of imaging based techniques. HLA-independent adoptive immunotherapy is a promising anticancer strategy that holds potential as an alternative to checkpoint inhibitors or in combination. Immunotherapy with cytokine-induced killer (CIK) cells emerged in the last years as a promising adoptive immunotherapy approach.
Past research interests: single polymer and polymeric solution physics, fluid dynamics, viscoelastic turbulence.
Attività in agenda
Organi
Ricevimento studenti
Please send an email.