Dott. Serena Marchio'
Ricercatore/Ricercatrice a tempo determinato di tipo A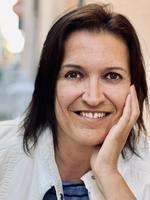 Contatti
0119933239
Candiolo Cancer Institute, FPO-IRCCS
Strada Provinciale 142, Km 3.95
10060 Candiolo (TO), Italy
Presso
Department of Oncology
Dipartimento di Oncologia
Corso di laurea in Igiene Dentale
Corso di Laurea in Tecniche di Laboratorio Biomedico - Cuneo
Laurea Magistrale in Medicina e Chirurgia - sede di Torino
Curriculum vitae
Curriculum Vitae (0.1 MB)
Pubblicazioni selezionate
Foglizzo V, Marchio S. (2021) Bacteriophages as therapeutic and diagnostic vehicles in cancer. Pharmaceuticals 14(2) [DOI PMID]
Goracci M, Pignochino Y, Marchio S. (2020) Phage display-based nanotechnology applications in cancer immunotherapy. Molecules 25(4) [DOI PMID]
Quaglia S, Ferrara F, De Leo L, Ziberna F, Vatta S, Marchio S, Sblattero D, Ventura A, Not T. (2019) A functional idiotype/anti-idiotype network is active in genetically gluten-intolerant individuals negative for both celiac disease-related intestinal damage and serum autoantibodies. Journal of Immunology 202(4) 1079-1087 [DOI PMID]
Crane ED, Al-Hashimi AA, Chen J, Lynn EG, Won KD, Lhotak S, Naeim M, Platko K, Lebeau P, Byun JH, Shayegan B, Krepinsky JC, Rayner KJ, Marchio S, Pasqualini R, Arap W, Austin RC. (2018) Anti-GRP78 autoantibodies induce endothelial cell activation and accelerate the development of atherosclerotic lesions. JCI Insight 3(24) [DOI PMID]
Chohan MO, Marchio S, Morrison LA, Sidman RL, Cavenee WK, Dejana E, Yonas H, Pasqualini R, Arap W. (2019) Emerging pharmacologic targets in cerebral cavernous malformation and potential strategies to alter the natural history of a difficult disease: A Review. JAMA Neurology 76(4) 492-500 [DOI PMID]
Staquicini DI, D'Angelo S, Ferrara F, Karjalainen K, Sharma G, Smith TL, Tarleton CA, Jaalouk DE, Kuniyasu A, Baze WB, Chaffee BK, Hanley PW, Barnhart KF, Koivunen E, Marchio S, Sidman RL, Cortes JE, Kantarjian HM, Arap W, Pasqualini R. (2018) Therapeutic targeting of membrane-associated GRP78 in leukemia and lymphoma: preclinical efficacy in vitro and formal toxicity study of BMTP-78 in rodents and primates. The Pharmacogenomics Journal 18(3) 436-443 [DOI PMID]
Marchiò S, Bussolino F (2018). Targeted nanomedicines for applications in preclinical cancer models. Bulletin of Russian State Medical University 6:5-12
Al-Hashimi AA, Lebeau P, Majeed F, Polena E, Lhotak S, Collins CAF, Pinthus JH, Gonzalez-Gronow M, Hoogenes J, Pizzo SV, Crowther M, Kapoor A, Rak J, Gyulay G, D'Angelo S, Marchio S, Pasqualini R, Arap W, Shayegan B, Austin RC. (2017) Autoantibodies against the cell surface-associated chaperone GRP78 stimulate tumor growth via tissue factor. The Journal of Biological Chemistry 292(51) 21180-21192 [DOI PMID]
Teixeira AA, Marchio S, Dias-Neto E, Nunes DN, da Silva IT, Chackerian B, Barry M, Lauer RC, Giordano RJ, Sidman RL, Wheeler CM, Cavenee WK, Pasqualini R, Arap W. (2017) Going viral? Linking the etiology of human prostate cancer to the PCA3 long noncoding RNA and oncogenic viruses. EMBO Molecular Medicine 9(10) 1327-1330 [DOI PMID]
Lewis VO, Devarajan E, Cardo-Vila M, Thomas DG, Kleinerman ES, Marchio S, Sidman RL, Pasqualini R, Arap W. (2017) BMTP-11 is active in preclinical models of human osteosarcoma and a candidate targeted drug for clinical translation. Proceedings of the National Academy of Sciences of the United States of America 114(30) 8065-8070 [DOI PMID]
Staquicini DI, Rangel R, Guzman-Rojas L, Staquicini FI, Dobroff AS, Tarleton CA, Ozbun MA, Kolonin MG, Gelovani JG, Marchio S, Sidman RL, Hajjar KA, Arap W, Pasqualini R. (2017) Intracellular targeting of annexin A2 inhibits tumor cell adhesion, migration, and in vivo grafting. Scientific Reports 7(1) 4243 [DOI PMID]
Kolonin MG, Sergeeva A, Staquicini DI, Smith TL, Tarleton CA, Molldrem JJ, Sidman RL, Marchio S, Pasqualini R, Arap W. (2017) Interaction between tumor cell surface receptor RAGE and proteinase 3 mediates prostate cancer metastasis to bone. Cancer Research 77(12) 3144-3150 [DOI PMID]
Marchio S, Bansal P, Pasqualini R, Arap W. (2017) An antivascular vaccine to boost self-immunity and strike the tumor. Proceedings of the National Academy of Sciences of the United States of America 114(16) E3164-E3165 [DOI PMID]
Ferrara F, Staquicini DI, Driessen WHP, D'Angelo S, Dobroff AS, Barry M, Lomo LC, Staquicini FI, Cardo-Vila M, Soghomonyan S, Alauddin MM, Flores LG 2nd, Arap MA, Lauer RC, Mathew P, Efstathiou E, Aparicio AM, Troncoso P, Navone NM, Logothetis CJ, Marchio S, Gelovani JG, Sidman RL, Pasqualini R, Arap W. (2016) Targeted molecular-genetic imaging and ligand-directed therapy in aggressive variant prostate cancer. Proceedings of the National Academy of Sciences of the United States of America 113(45) 12786-12791 [DOI PMID]
Dobroff AS, D'Angelo S, Eckhardt BL, Ferrara F, Staquicini DI, Cardo-Vila M, Staquicini FI, Nunes DN, Kim K, Driessen WHP, Hajitou A, Lomo LC, Barry M, Krishnamurthy S, Sahin A, Woodward WA, Prossnitz ER, Anderson RL, Dias-Neto E, Brown-Glaberman UA, Royce ME, Ueno NT, Cristofanilli M, Hortobagyi GN, Marchio S, Gelovani JG, Sidman RL, Arap W, Pasqualini R. (2016) Towards a transcriptome-based theranostic platform for unfavorable breast cancer phenotypes. Proceedings of the National Academy of Sciences of the United States of America 113(45) 12780-12785 [DOI PMID]
Cardo-Vila M, Marchio S, Sato M, Staquicini FI, Smith TL, Bronk JK, Yin G, Zurita AJ, Sun M, Behrens C, Sidman RL, Lee JJ, Hong WK, Wistuba II, Arap W, Pasqualini R. (2016) Interleukin-11 Receptor Is a Candidate Target for Ligand-Directed Therapy in Lung Cancer: Analysis of Clinical Samples and BMTP-11 Preclinical Activity. The American Journal of Pathology 186(8) 2162-2170 [DOI PMID]
Marchio S, Sidman RL, Arap W, Pasqualini R. (2016) Brain endothelial cell-targeted gene therapy of neurovascular disorders. EMBO Molecular Medicine 8(6) 592-4 [DOI PMID]
Bartolini A, Cardaci S, Lamba S, Oddo D, Marchio C, Cassoni P, Amoreo CA, Corti G, Testori A, Bussolino F, Pasqualini R, Arap W, Cora D, Di Nicolantonio F, Marchio S. (2016) BCAM and LAMA5 mediate the recognition between tumor cells and the endothelium in the metastatic spreading of KRAS-mutant colorectal cancer. Clinical Cancer Research 22(19) 4923-4933 [DOI PMID]
Dondossola E, Dobroff AS, Marchio S, Cardo-Vila M, Hosoya H, Libutti SK, Corti A, Sidman RL, Arap W, Pasqualini R. (2016) Self-targeting of TNF-releasing cancer cells in preclinical models of primary and metastatic tumors. Proceedings of the National Academy of Sciences of the United States of America 113(8) 2223-8 [DOI PMID]
Yao VJ, D'Angelo S, Butler KS, Theron C, Smith TL, Marchio S, Gelovani JG, Sidman RL, Dobroff AS, Brinker CJ, Bradbury ARM, Arap W, Pasqualini R. (2016) Ligand-targeted theranostic nanomedicines against cancer. Journal of Controlled Release 240 267-286 [DOI PMID]
Bartolini A, Di Paolo D, Noghero A, Murgia D, Sementa AR, Cilli M, Pasqualini R, Arap W, Bussolino F, Ponzoni M, Pastorino F, Marchio S. (2015) The neuronal pentraxin-2 pathway is an unrecognized target in human neuroblastoma, which also offers prognostic value in patients. Cancer Research 75(20) 4265-71 [DOI PMID]
Cossu I, Bottoni G, Loi M, Emionite L, Bartolini A, Di Paolo D, Brignole C, Piaggio F, Perri P, Sacchi A, Curnis F, Gagliani MC, Bruno S, Marini C, Gori A, Longhi R, Murgia D, Sementa AR, Cilli M, Tacchetti C, Corti A, Sambuceti G, Marchio S, Ponzoni M, Pastorino F. (2015) Neuroblastoma-targeted nanocarriers improve drug delivery and penetration, delay tumor growth and abrogate metastatic diffusion. Biomaterials 68 89-99 [DOI PMID]
Salameh A, Lee AK, Cardo-Vila M, Nunes DN, Efstathiou E, Staquicini FI, Dobroff AS, Marchio S, Navone NM, Hosoya H, Lauer RC, Wen S, Salmeron CC, Hoang A, Newsham I, Lima LA, Carraro DM, Oliviero S, Kolonin MG, Sidman RL, Do KA, Troncoso P, Logothetis CJ, Brentani RR, Calin GA, Cavenee WK, Dias-Neto E, Pasqualini R, Arap W. (2015) PRUNE2 is a human prostate cancer suppressor regulated by the intronic long noncoding RNA PCA3. Proceedings of the National Academy of Sciences of the United States of America 112(27) 8403-8 [DOI PMID]
Pignochino Y, Dell'Aglio C, Inghilleri S, Zorzetto M, Basirico M, Capozzi F, Canta M, Piloni D, Cemmi F, Sangiolo D, Gammaitoni L, Soster M, Marchio S, Pozzi E, Morbini P, Luisetti M, Aglietta M, Grignani G, Stella GM. (2015) The combination of sorafenib and everolimus shows antitumor activity in preclinical models of malignant pleural mesothelioma. BMC Cancer 15 374 [DOI PMID]
Nunes DN, Dias-Neto E, Cardo-Vila M, Edwards JK, Dobroff AS, Giordano RJ, Mandelin J, Brentani HP, Hasselgren C, Yao VJ, Marchio S, Pereira CA, Passetti F, Calin GA, Sidman RL, Arap W, Pasqualini R. (2015) Synchronous down-modulation of miR-17 family members is an early causative event in the retinal angiogenic switch. Proceedings of the National Academy of Sciences of the United States of America 112(12) 3770-5 [DOI PMID]
Peraldo-Neia C, Cavalloni G, Soster M, Gammaitoni L, Marchio S, Sassi F, Trusolino L, Bertotti A, Medico E, Capussotti L, Aglietta M, Leone F. (2014) Anti-cancer effect and gene modulation of ET-743 in human biliary tract carcinoma preclinical models. BMC Cancer 14 918 [DOI PMID]
Parri M, Pietrovito L, Grandi A, Campagnoli S, De Camilli E, Bianchini F, Marchio S, Bussolino F, Jin B, Sarmientos P, Grandi G, Viale G, Pileri P, Chiarugi P, Grifantini R. (2014) Angiopoietin-like 7, a novel pro-angiogenetic factor over-expressed in cancer. Angiogenesis 17(4) 881-96 [DOI PMID]
Cardaci S, Soster M, Bussolino F, Marchio S. (2013) The V1/V2 loop of HIV-1 gp120 is necessary for Tat binding and consequent modulation of virus entry. FEBS Letters 587(18) 2943-51 [DOI PMID]
Loi M, Di Paolo D, Soster M, Brignole C, Bartolini A, Emionite L, Sun J, Becherini P, Curnis F, Petretto A, Sani M, Gori A, Milanese M, Gambini C, Longhi R, Cilli M, Allen TM, Bussolino F, Arap W, Pasqualini R, Corti A, Ponzoni M, Marchio S, Pastorino F. (2013) Novel phage display-derived neuroblastoma-targeting peptides potentiate the effect of drug nanocarriers in preclinical settings. Journal of Controlled Release 170(2) 233-41 [DOI PMID]
Graziano S, Marchio S, Bussolino F, Arese M. (2013) A peptide from the extracellular region of the synaptic protein alpha Neurexin stimulates angiogenesis and the vascular specific tyrosine kinase Tie2. Biochemical and Biophysical Research Communications 432(4) 574-9 [DOI PMID]
Arap W, Pasqualini R, Montalti M, Petrizza L, Prodi L, Rampazzo E, Zaccheroni N, Marchio S. (2013) Luminescent silica nanoparticles for cancer diagnosis. Current Medicinal Chemistry 20(17) 2195-211 [DOI PMID]
Pignochino Y, Dell'Aglio C, Basirico M, Capozzi F, Soster M, Marchio S, Bruno S, Gammaitoni L, Sangiolo D, Torchiaro E, D'Ambrosio L, Fagioli F, Ferrari S, Alberghini M, Picci P, Aglietta M, Grignani G. (2013) The combination of Sorafenib and Everolimus abrogates mTORC1 and mTORC2 upregulation in osteosarcoma preclinical models. Clinical Cancer Research 19(8) 2117-31 [DOI PMID]
Marchio S, Astanina E, Bussolino F. (2013) Emerging lymphae for the fountain of life. The EMBO Journal 32(5) 609-11 [DOI PMID]
Marchio S, Soster M, Cardaci S, Muratore A, Bartolini A, Barone V, Ribero D, Monti M, Bovino P, Sun J, Giavazzi R, Asioli S, Cassoni P, Capussotti L, Pucci P, Bugatti A, Rusnati M, Pasqualini R, Arap W, Bussolino F. (2012) A complex of alpha6 integrin and E-cadherin drives liver metastasis of colorectal cancer cells through hepatic angiopoietin-like 6. EMBO Molecular Medicine 4(11) 1156-75 [DOI PMID]
Soster M, Juris R, Bonacchi S, Genovese D, Montalti M, Rampazzo E, Zaccheroni N, Garagnani P, Bussolino F, Prodi L, Marchio S. (2012) Targeted dual-color silica nanoparticles provide univocal identification of micrometastases in preclinical models of colorectal cancer. International Journal of Nanomedicine 7 4797-807 [DOI PMID]
Napione L, Strasly M, Meda C, Mitola S, Alvaro M, Doronzo G, Marchio S, Giraudo E, Primo L, Arese M, Bussolino F. (2012) IL-12-dependent innate immunity arrests endothelial cells in G0-G1 phase by a p21(Cip1/Waf1)-mediated mechanism. Angiogenesis 15(4) 713-25 [DOI PMID]
Cavalloni G, Peraldo-Neia C, Sarotto I, Gammaitoni L, Migliardi G, Soster M, Marchio S, Aglietta M, Leone F. (2012) Antitumor activity of Src inhibitor saracatinib (AZD-0530) in preclinical models of biliary tract carcinomas. Molecular Cancer Therapeutics 11(7) 1528-38 [DOI PMID]
Virga A, Rivolo P, Descrovi E, Chiolerio A, Digregorio G, Frascella F, Soster M, Bussolino F, Marchiò S, Geobaldo F, Giorgis F (2012). SERS active Ag nanoparticles in mesoporous silicon: detection of organic molecules and peptide-antibody assays. J Raman Spectroscopy 43:730-736 [DOI]
Loi M, Marchio S, Becherini P, Di Paolo D, Soster M, Curnis F, Brignole C, Pagnan G, Perri P, Caffa I, Longhi R, Nico B, Bussolino F, Gambini C, Ribatti D, Cilli M, Arap W, Pasqualini R, Allen TM, Corti A, Ponzoni M, Pastorino F. (2010) Combined targeting of perivascular and endothelial tumor cells enhances anti-tumor efficacy of liposomal chemotherapy in neuroblastoma. Journal of Controlled Release 145(1) 66-73 [DOI PMID]
Marchio S, Arap W, Pasqualini R. (2009) Targeting the extracellular signature of metastatic colorectal cancers. Expert Opinion on Therapeutic Targets 13(3) 363-79 [DOI PMID]
Zanivan S, Cascone I, Peyron C, Molineris I, Marchio S, Caselle M, Bussolino F. (2007) A new computational approach to analyze human protein complexes and predict novel protein interactions. Genome Biology 8(12) R256 [DOI PMID]
Primo L, Ferrandi C, Roca C, Marchio S, di Blasio L, Alessio M, Bussolino F. (2005) Identification of CD36 molecular features required for its in vitro angiostatic activity. FASEB Journal 19(12) 1713-5 [DOI PMID]
Marchio S, Alfano M, Primo L, Gramaglia D, Butini L, Gennero L, De Vivo E, Arap W, Giacca M, Pasqualini R, Bussolino F. (2005) Cell surface-associated Tat modulates HIV-1 infection and spreading through a specific interaction with gp120 viral envelope protein. Blood 105(7) 2802-11 [DOI PMID]
Marchio S, Lahdenranta J, Schlingemann RO, Valdembri D, Wesseling P, Arap MA, Hajitou A, Ozawa MG, Trepel M, Giordano RJ, Nanus DM, Dijkman HB, Oosterwijk E, Sidman RL, Cooper MD, Bussolino F, Pasqualini R, Arap W. (2004) Aminopeptidase A is a functional target in angiogenic blood vessels. Cancer Cell 5(2) 151-62 [DOI PMID]
Marchio S, Primo L, Pagano M, Palestro G, Albini A, Veikkola T, Cascone I, Alitalo K, Bussolino F. (1999) Vascular endothelial growth factor-C stimulates the migration and proliferation of Kaposi's sarcoma cells. The Journal of Biological Chemistry 274(39) 27617-22 [DOI PMID]
Marconcini L, Marchio S, Morbidelli L, Cartocci E, Albini A, Ziche M, Bussolino F, Oliviero S. (1999) c-fos-induced growth factor/vascular endothelial growth factor D induces angiogenesis in vivo and in vitro. Proceedings of the National Academy of Sciences of the United States of America 96(17) 9671-6 [DOI PMID]
Maggiora P, Marchio S, Stella MC, Giai M, Belfiore A, De Bortoli M, Di Renzo MF, Costantino A, Sismondi P, Comoglio PM. (1998) Overexpression of the RON gene in human breast carcinoma. Oncogene 16(22) 2927-33 [DOI PMID]
Temi di ricerca
PROFILAZIONE PROTEOMICA DEL MICROAMBIENTE TUMORALE
Le analisi basate sugli acidi nucleici non sempre permettono di valutare le quantità reali, la localizzazione e le interazioni delle proteine. Inoltre, tali analisi non tengono conto delle diverse componenti cellulari in un tessuto e delle relazioni tra le cellule e il microambiente circostante. Per ovviare a tali limiti e, nel contempo, evitare lunghe e costose analisi proteomiche, sono stati sviluppati sistemi alternativi. Tra questi, il phage display rappresenta una metodica efficace per identificare marcatori molecolari e circuiti proteici associati a un determinato contesto patologico quale la malattia oncologica. Il phage display utilizza virus procariotici (i batteriofagi) che possono essere ingegnerizzati ad esprimere brevi peptidi, intere proteine o frammenti anticorpali come fusione con il loro capside. A partire da librerie casuali, mediante procedure di selezione per affinità, è possibile identificare ligandi specifici per un substrato di interesse (una proteina ricombinante, una cellula, un tessuto). Questi ligandi sono poi sfruttati per veicolare agenti diagnostici e terapeutici personalizzati. Inoltre, il phage display può essere affiancato a sequenziamento di nuova generazione e analisi bioinformatiche per ricostruire interazioni proteina-proteina all'interfaccia tra le cellule tumorali ed il loro microambiente.
Il nostro progetto AIRC su FRidA
STAFF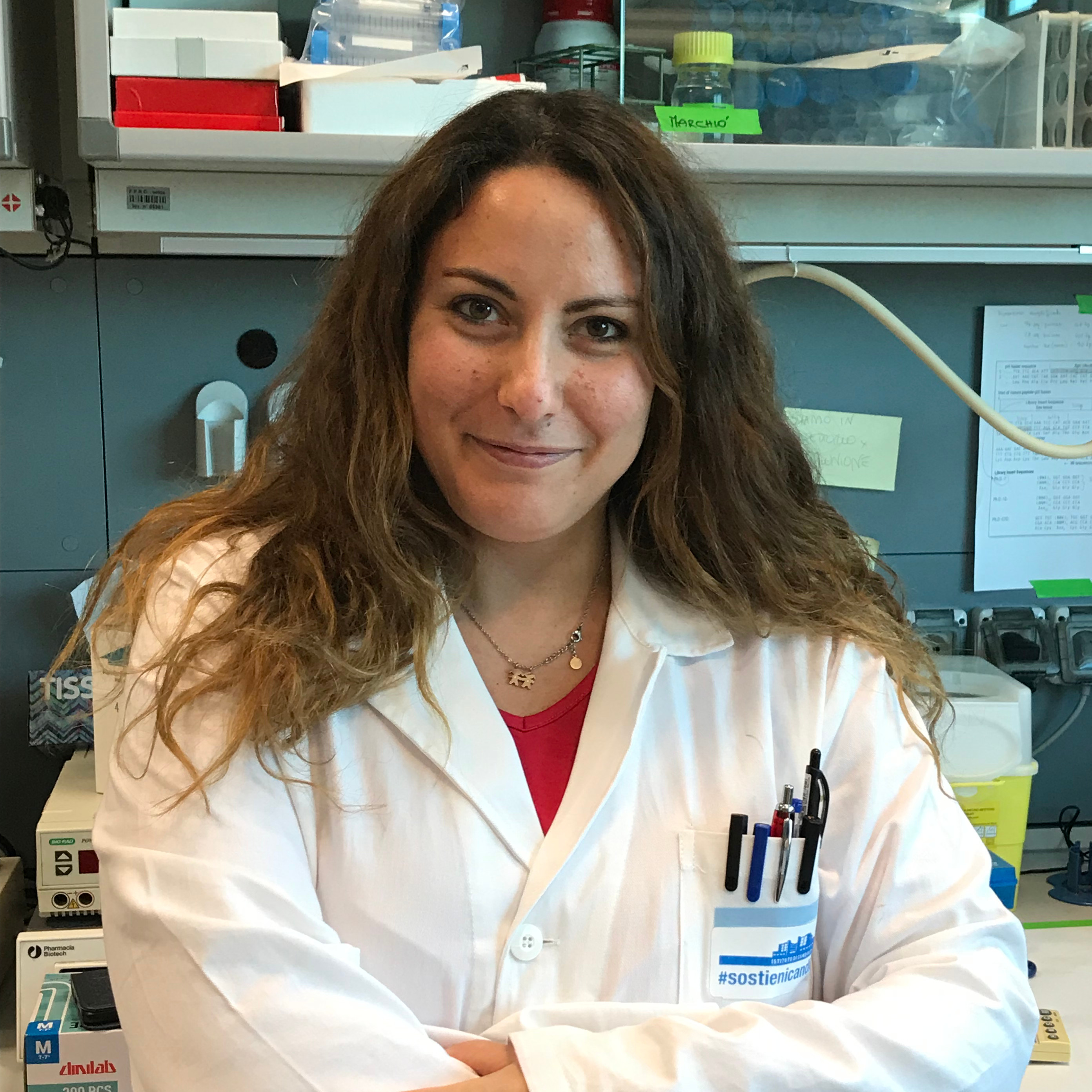 Nadia Ducano, Assegnista Dipartimento di Oncologia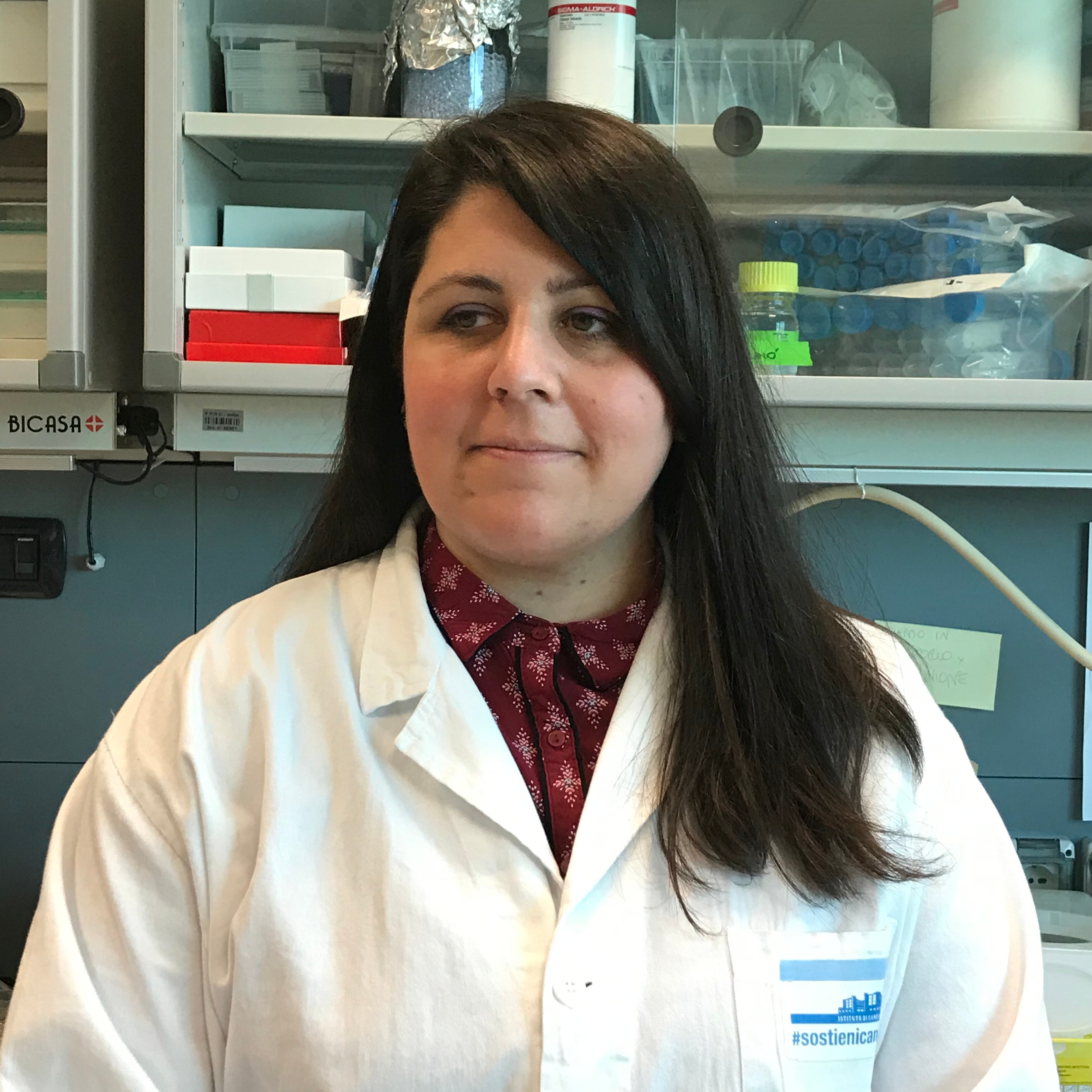 Valentina Foglizzo, Assegnista Dipartimento di Oncologia
LINEE DI RICERCA
Biochimica del cancro. Biologia molecolare e cellulare del cancro. Sistemi complessi in oncologia. Nuove tecnologie. Microambiente tumorale.
PROGETTI SCIENTIFICI FINANZIATI
Dal 01/01/2019 al 31/12/2024: Associazione Italiana per la Ricerca sul Cancro-Investigator Grant (AIRC-IG) 2018. Titolo del progetto: Profiling the cell surface of human KRas-mutant cancer cells for the design of patient-tailored theranostics.
Dal 01/02/2018 al 31/01/2019: Ricerca Locale (ex 60%), Dipartimento di Oncologia, Università di Torino. Titolo del progetto: Mapping the surface of KRAS-mutant cancer cells to find new druggable targets.
Dal 01/12/2012 al 30/11/2013: Rotaract 3020 (Progetto Strategico 2011-2012 Rotaract Against Cancer, Rotary Club). Titolo del progetto: An integrated platform to study the microenvironment of metastatic colorectal cancers: tropism and stemness mechanisms, diagnostic and therapeutic targeting.
Dal 01/01/2010 al 31/12/2012: Banca di Credito Cooperativo di Alba, Bra, Langhe e Roero. Titolo del progetto: Vedere meglio per curare meglio.
Dal 01/12/2010 al 30/11/2011: Ricerca Sanitaria Finalizzata Regione Piemonte Under 40. Titolo del progetto: Studio dei meccanismi molecolari che guidano la colonizzazione epatica del carcinoma metastatico del colon.
Dal 15/05/2010 al 14/05/2013: FPRC-ONLUS, Ricerca Intramurale. Titolo del progetto: Investigating the molecular pathology of advanced colorectal cancer: coupling peptide signatures of liver metastasis microenvironment with KRAS/BRAF mutational status for the design of alternative target therapies.
Dal 01/01/2008 al 31/12/2010: Associazione Italiana per la Ricerca sul Cancro-My First AIRC Grant (AIRC-MFAG). Titolo del progetto: Investigating the extracellular signature of metastatic colon cancer.
TRASFERIMENTO TECNOLOGICO: BREVETTI
04/09/2012: Brevetto EP2703005: Inhibitors of alpha6 integrin/E-cadherin complex. Inventori: Bussolino F, Marchiò S.
30/11/2007: Brevetto EP2121742: Metastasis-specific peptides an.d their diagnostic and therapeutic applications. Inventori: Bussolino F, Marchiò S.
19/12/2002: Brevetto EP1431306: A mechanism for hiv-1 entry into host cells and peptides inhibiting this mechanism. Inventori: Bussolino F, Marchiò S.
TRASFERIMENTO TECNOLOGICO: CREAZIONE START-UP
01/01/2007: Creazione dell'azienda start-up APAvadis Biotechnologies srl, ospitata al BioIndustry Park S. Fumero, Colleretto Giacosa (Torino) nell'ambito dell'iniziativa Discovery.
TRASFERIMENTO TECNOLOGICO: FINANZIAMENTI ALLA START-UP
Dal 01/07/2010 al 12/07/2015: POR/FESR 2007/2013 Linea Poli di Innovazione. Progetto BANP (Nanoparticelle bioattive per la diagnosi, la terapia e l'imaging molecolare).
Dal 29/06/2009 al 28/06/2012: POR/FESR 2007/2013 Linea I.1.1 Piattaforme Innovative nell'area delle biotecnologie per le scienze della vita. Progetto DRUIDI (DRUg Innovation and Discovery).
2009: Iniziativa Voucher – Regione Piemonte. Titolo del progetto: Sviluppo di sistemi diagnostici innovativi basati su nanovettori tumore- e metastasi-specifici.
Dal 2008 al 2010: Due borse di studio Progetto Lagrange (Fondazione ISI e Cassa di Risparmio di Torino). Titolo del progetto: Pruduzione di nanovettori specifici per indirizzamento farmacologico e imaging molecolare.
Dal 2007 al 2010: Investimento di capitali. Eporgen Venture e Piemonte High Technology-PiemonTech Venture Capitals.